Hydrogeology, Groundwater Engineering, and Water Management
KWD is a privately-owned consulting firm, which specializes in hydrogeology, groundwater engineering, water management, and project management and builds on the 20+ years of experience of its owner, Dr. Ineke Kalwij (P.Eng.). KWD collaborates with qualified engineering consulting firms (civil, geotechnical), environmental consultants, well drilling & pump contractors and GIS consultants.
KWD fosters a teamwork approach for projects and maintains a strong ethics of keeping the client involved in every step of the project. Each project is personal to us and we take great pride in our work and deliverables.
KWD has the in-house expertise and resources of various software and modeling tools relevant to meeting our project needs. KWD has its own grain size analysis laboratory (an extensive collection of sieves and related accessories) for completing grain size analysis for well design purposes. Our experience is that completing grain-size analysis in-house allows for more detailed analysis (in a cost and time efficient manner) resulting in better confidence in well screen design.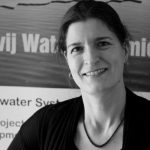 KWD is owned by Ineke Kalwij, Ph.D., P.Eng., principal hydrogeologist and engineer, licensed with Engineers & Geoscientists BC (EGBC). She has 20+ years of professional experience in hydrogeology, groundwater engineering, and water management (groundwater, surface water hydrology, irrigation & drainage) through working in Canada, United States, and with the International Water Management Institute, Lahore, Pakistan.
She holds an engineering degree from Wageningen University, The Netherlands, and completed her Ph.D. in groundwater engineering (simulation modeling / system analysis & optimization –genetic algorithms & artificial neural networks), Utah State University (USA) and has a Certificate in Project Management from the Saunders School of Business, University of British Columbia.
She is active as Member of the City of Coquitlam Sustainability & Environmental Advisory Committee, Co-chair of the BC Water & Waste Association (BCWWA) Water Sustainability Act Committee and Member of the BCWWA Diversity & Inclusion Task Force. She is also member of the BC Groundwater Association (BCGWA), International Association of Hydrogeologists (IAH), and International Water Resources Association (IWRA).

KWD's on-going consulting services for Clearbrook Waterworks District since 2010
CWD's large-capacity production wells collectively withdraw over 1 billion litres annually. KWD was the project manager and hydrogeological engineer for CWD's Wells Replacement Program (completed between 2011 and 2017). KWD assists CWD in the implementation of their comprehensive wells & groundwater (natural asset) monitoring and management programs.